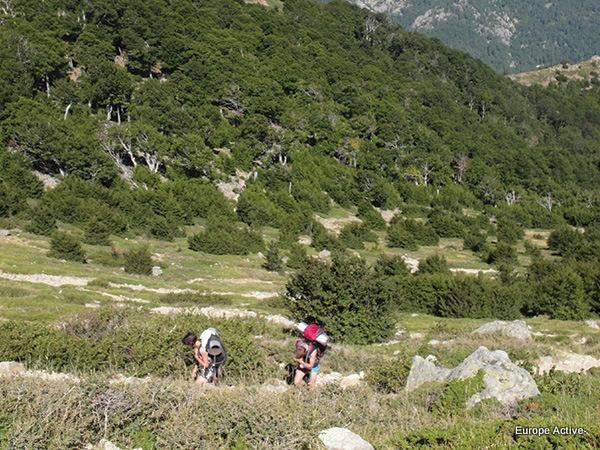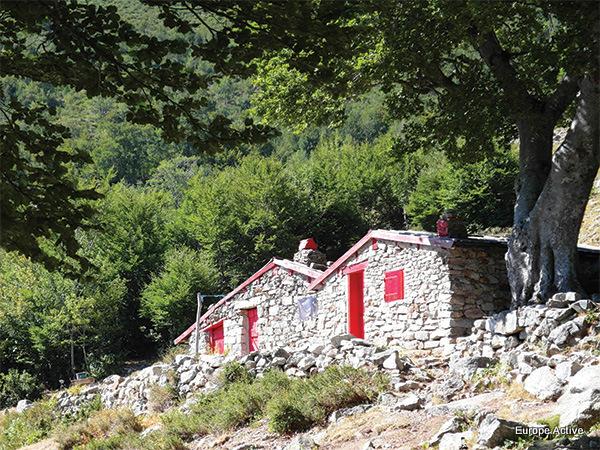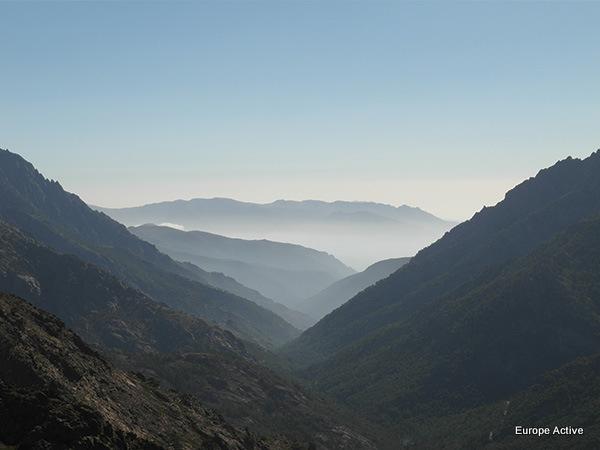 GR20: standard & guided version
13 days / 12 nights
Corsica - GR20 - full GR20 - Guided walking
With a guide - Luggage transfer

Last updated: 17/10/2023
price from
1790 €
per pers.
The price given is for a group of 6 to 12 participants. One month before departure, before payment of your balance, we will give you the final number of participants. NB : For "open" groups, in accordance with our general sales conditions, a minimum of 6 participants (addition of individual registrations) is required for our departures to be guaranteed. They are cancelled or confirmed at least 30 days before the scheduled departure date.


This is the Authentic in the original sense of the most famous of treks.
The more alpine, more mineral, more difficult northern part will be absorbed by fresh bodies from the very first days.

All the climbs on the program are NORTH-facing, so in the shade, which is an undeniable advantage!

What's more, you'll be physiologically and mentally relieved before tackling the second part. All in all, an optimized success rate.
We use local mountain guides with excellent knowledge of the route. However, their level of English cannot be guaranteed. Groups are opened to french and english speaking walkers (You will not be with english speaking persons only). Do contact us for more details.
Your day by day program
Calenzana - Bonifatu
We welcome the group in the early morning in Calvi, transfer to the village of Calenzana where we begin our stay on this first original stage to the Bonifatu valley.

Overnight in a gîte in Bonifatu

Approx. 12.5 km
Approx. 5h30 walking time
+1082m; -810m
No access to follower bag
Bonifatu - Ascu
An athletic day, with over 1500 m of D+, ascent of the Bonifatu cirque, where we first reach the Spasimata footbridge, then a more mineral route to the lake and the Col de la Muvrella. From Bocca Stagnu, the view of the Cintu massif is magnificent. We then embark on a long and tedious descent to Asco.

Overnight in a gîte in Asco.

Approx. 10.8 km
Approx. 6h30 walking time
+ 1514m; - 620m

Access to tracking bag
Ascu - Tighjettu
Another "tough" day in the heart of the island's mineral landscape, with the crossing of the GR20's highest pass, the Pointe des éboulis, at over 2600 metres altitude, to rub shoulders with the roof of Corsica. Difficult descent to the Tighjettu refuge or the Vallone sheepfolds.

Approx. 7.6 km
Approx. 8h30
+ 1238m; - 978m
No access to following bag
Tighjettu - Vergio
Technical ascent to the "Ciuttolu di i Mori" refuge (1990 m) via the "Foggiale" pass, then descent to the
upper Golu valley via the Radule waterfalls. Arrival at Col de Vergio.

Overnight in a gîte.

Approx. 15 km
Approx. 6h30 walking time
+ 810m; - 1084m
Access to tracking bag
Ascent to Lake Ninu - Vaccaghja
Easy start on a circular path through the magnificent Valduniellu forest. Climb to Lac de Ninu and cross the Campotile plateau.

Overnight in Bergeries.

Approx. 13.6 km
Approx. 5h30 walking time
+641m; - 450m
No access to follower bag
Vaccaghja - Petra Piana
Via the Bocca alle Porte, we overlook the spectacular Restonica cirque, with its famous Melu and Capitellu lakes. Descend to the foot of Monte Rotondu at the Petra Piana refuge.

Approx. 10.6 km

Approx. 6h30 walking time
+ 949m; - 691m
No access to follower bag
Petra Piana - Vizzavona
Early start to end our adventure with a mixed stage between the alpine variant of the Gr20, the Pinzi Curbini or the Manganellu valley, and a traverse of the Monte d'Oro massif to descend into the Agnone and the legendary Vizzavona forest.

Approx. 15.5 km
Approx. 8 hrs walk
+1070m; -1764m
Access to bag
Vizzanvona - Capanelle
We follow an old mule track to the Col de Palmente (1640 m). The eastern coastline emerges at our feet, offering a vast panorama of the Diana and Urbinu ponds. Descent into the Marmano forest.
Overnight in a gîte in Capanelle.

Approx. 13.9 km
Approx. 5h30 walking time
+ 883m; -430m
Access to tracking bag
Capanelle - Col de Verde
We head for the Col de Verde via the crests! As a prelude, we enjoy a superb sunrise over the eastern plain, then reach the Lac de Bastani, before climbing to the highest peak in southern Corsica, Monte Renosu. An aerial descent to the magnificent Pozzi plateau and the Col de Verde.

Approx. 12.8 km
Approx. 5h30 walking time
+ 812m; -1121m
Access to bag
Col de Verde - Usciolu
We continue southwards. Ascent to the Prati refuge. An aerial route over the watershed
the watershed between the Taravu valley and the eastern plain, we make our way between wind-torn granite blocks
backdrop of the Tyrrhenian Sea.

Overnight at the Usciolu refuge.

Approx. 14 km
Approx. 7 hrs walk
+ 1240m; - 780m
No access to follower bag
Usciolu - Croci
Still on a magnificent ridge route between heaven and earth, along the edge of the ridge we reach Bocca l'Aghone.
the GR20 eases off to the Croci sheepfolds.

Approx. 13.3 km
Approx. 5h30 walking time
+ 388m; -597m
Access to bag
Croci - Bavella
Morning ascent of Incudine 2134 m. Crossing the Asinau valley, we take the alpine variant to cross the famous Aiguilles de Bavella.

Overnight in a gîte.

Approx. 15 km
Approx. 8 hrs.
+ 1225m; - 1550m
Tracking bag access



Conca - End of stay
Early morning departure by headlamp for a descent through the maquis towards the Gulf of Porto-Vecchio. Final passages through granite chaos.

Arrival at Conca, end of hike around 3:30pm, then late afternoon transfer to Porto Vecchio and dispersal around 5pm.

Approx. 18.4 km
Approx. 6h45 walking time
+ 892m; - 1867 m
Collecting your bag
Departure board
Departures for groups formed on request
Technical information
Starting point
Day 1 at 8:00 am in Calvi, in front of the railway station. Our assistance team will take care of your luggage, and you should arrive ready to hike. Optional Sunday transfer Ajaccio - Calvi: duration 2h30
End
Day 13: late afternoon in Porto-Vecchio around 5pm (end of tour in Conca around 3:30pm).
Accommodation
In gîtes, refuges (dormitories and shared sanitary facilities) and two-man tents.
Number of people
Groups of 12 participants maximum.
Level of difficulty
Very sporty, with stages averaging between 6 and 7 hours' walking per day and a daily vertical drop of between 600 and 800 meters. You'll need to be in very good physical condition to enjoy your stay to the full.
Carrying
The assistance team will transport your luggage to the accommodation accessible by road. Food and any bivouac equipment are transported by our assistance team. Luggage packaging: - one piece of assistance luggage, called "follower luggage", with a maximum of 10 kg per person, easily transportable and allowing you to replace your equipment (a backpack or sports bag, or even a travel bag in good condition). This bag must be labelled with the luggage label that will be sent to you when you register or given to you on the day of departure. - a 50-liter "day" backpack, essential for your day hikes, with a compulsory "back pack". You'll need a waterproof protective cover. Please note that this is a real hiking backpack, with padded shoulder straps, chest strap and waist belt. Luggage assistance: Access to your luggage 8 times during the trip: Evenings 2, 4, 7, 8, 9, 11 and 12. Please keep your equipment (especially your assistance luggage) to a minimum. You can leave a bag in Calvi with any items you don't need for the tour, which you'll find again at the end of your stay.
Included
Transfers from pick-up point (Calvi) to dispersal point
(Porto-Vecchio).
Full board, including food for the day.
Supervision by a mountain leader
Luggage assistance
Professional liability insurance
Full guarantee of deposited funds
Not included
Transportation Corsica/Continent
Personal expenses
Individual multi-risk accident, interruption,
loss of luggage and repatriation*.
Transfers inherent to a problem of level or state of fitness
during the hike.
The cost of a mountain guide for 1 or 2 days
at the start of the season if required.
Registration fees
Map